CERAMIC EXPERIENCE
GIARDINI NAXOS
Making Sicilian ceramic souvenirs
Ceramic Giardini Naxos and Taormina
Ceramic Giardini Naxos and Taormina it is a complete experience that deals with the most known art since ancient times.
The word ceramic derives from the Greek
Kéramos
, that is clay or potter's land.
Since ancient times it was modeled to make pots and other everyday objects. The clay was worked by hand, cooked in special ovens that reached high temperatures (up to 900° C) to become
terracotta
: resistant and waterproof. In Giardini Naxos there were many furnaces and the beautiful creations of the Greek period can be admired at the museum of the 
Archaeological Park
.
Ceramic Giardini Naxos
the experience consist of
Ceramic Giardini Naxos begins with a welcome introduction in which the material (the clay) and the ceramic tools will be presented.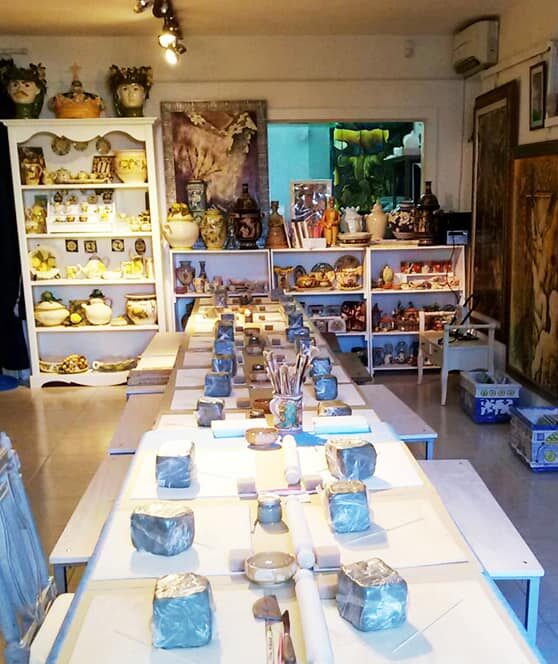 Ceramic Giardini Naxos
Clay modeling
Once the technique necessary for the realization of the object has been identified, we begin to model the clay .

After a few minutes you will be able, in complete autonomy, to give free rein to your creativity.

There is no right or wrong, there is only art, magic, which must materialize by your hands.
Ceramic Giardini Naxos
Glazing
Once the object is finished, we continue with hints of ceramic technique to glaze a tile.
Ceramic Giardini Naxos
Decoration
After developing a sketch on paper, you will decorate your tile.
At the end of the experience we will take a nice souvenir photo with your creations.
Benefits
Unleash your creative energies in a fun way
Improve problem-solving skills
Enhance patience and perseverance
What it includes
Master of ceramic art
Materials and work tools
Break with beverage and snack
Souvenir photo during the experience
Place
In an art atelier on the Giardini Naxos seafront. You will be informed of the exact point at the time of booking.
Things to know about ceramic class
A beautiful experience! The teacher knows how to make you feel special and kindly explains how to achieve what you have in mind. I am happy to have tried. - April
A surprise from my boyfriend! We arrive in Giardini Naxos and we had one of the funniest experiences together! We had clay everywhere, so we took the opportunity to take a dip (the beach is in front of the shop). Perfect gift! - Elisa
We spent an afternoon playing and creating with the children. A different way to spend the day and to stimulate the imagination. -Sabrina
I love trying new things when I travel and this experience I could not miss. Go back as a child and do whatever you want ... even just mess around ... it's wonderful! And anyway I made a pot and it will be my souvenir of Sicily. -Alex
Copyright © 2023 Sicily Experience | Powered by Sicily Experience